My favorite room in the house is definitely Graham's nursery. When I found out I was pregnant (well, after I sent my husband out to buy 14 more pregnancy tests --"Make sure they're the most EXPENSIVE ones at the store!"--and after the hiccupping and crying jag--"I mean, I wanted to have a baby, but on my terrrrrmmmmms!"), I became obsessed with the idea of furnishing and decorating the nursery. I made dorky little diagrams of furniture placement (which is pretty ridiculous, as there are only so many ways you can position things in a 10 x 9 room). I lusted after all the chic baby furniture I spied on
Ohdeedoh
and
Babble
. I coveted a sleek
Oeuf crib
with
Dwell
bedding. And then I realized that if I bought these things, we would no longer be able to pay our mortgage, and we would all have to live on the streets, huddled under our overturned Oeuf crib, with only our Dwell bumpers for warmth.
Lucky for me, there's so much cute baby stuff out there for any budget! Don't get me wrong, there's plenty of ugly business, too. But I figured out what we needed, decided there were plenty of things we could do without, and adapted lots of things we already owned. The result is (well, I think) pretty dang cute.
I was lucky to receive a beautiful crib as a gift from my aunt. She had me register for one, so I tried to choose one from Target with basic lines that would convert to a larger bed down the road. Once I found out I was having a boy, I found some bedding I loved from Target (heck, now Target even has its own line of super-cute Dwell bedding), and figured out the rest of the room from there. I loved the
Splash bedding
from MiGi. I think it's cute without being too cutesy, and modern without being cold.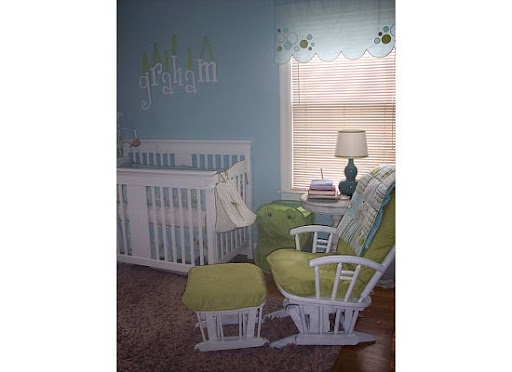 I had some Behr paint matched to the blue of the bedding. Although we had a spanking new crib, we had no other nursery furniture. We found a comfortable and sturdy Dutalier glider-rocker and ottoman on Craigslist ($65!), but it was oak, with a less-than-cute country blue cushion. I slathered it in white paint and recovered (okay, my mom recovered) the cushions in a lime microfiber ($9 per yard). I took inventory of our basement full of castoff junk and decided to use Seth's childhood maple chest of drawers, the tall brown Target bookcase from our former office (now the nursery), and a short bookcase that had been our kitchen microwave stand.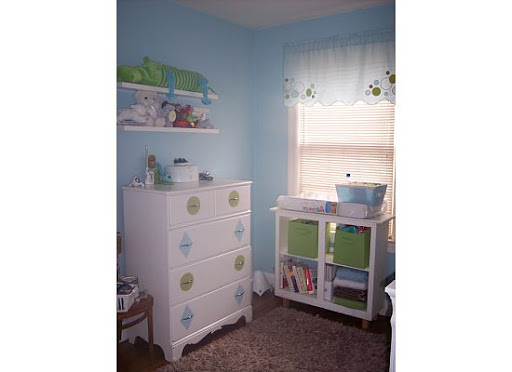 Seth's childhood dresser, above, got a fresh coat of paint and some chrome handles ($3 apiece at Home Depot). The shelves above the dresser are from Target's home office section, and are in the exact spot they were in when the room
was
our office. They just look a lot sweeter with Graham's toys on them. See, laziness works sometimes. That's our old kitchen microwave stand, cleaned and outfitted with a changing pad and some canvas bins from, where else, Target. The brown rug is wonderful--it's made of recycled t-shirts and is from Wal-Mart.
I used my leftover green and white paint for some fishy art on the walls that I tried to match to the fish in the bedding. I thought it was ridiculous to spend $20 per letter to put Graham's name over the bed, but I found a woman on eBay who sells them for under $5 per letter, plus she lets you pick your paint and ribbon color!
I think the room is so restful and sweet, which is nice since I spend so much time in there. And Graham seems pretty pleased with it, too.
Pin It